Lorna Bennell- Head Girl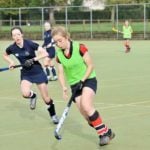 "My time here at Woodbridge School has been an incredible experience. It has been a privilege to be a part of this community since I joined Queen's House. There is a great rapport between students and teachers and this creates an atmosphere for all pupils to thrive in. I have been very thankful for the countless number of opportunities which have been provided by the school and the hockey tour to Holland where we were coached by a world number one athlete was definitely a highlight. Everyone is warmly welcomed here at Woodbridge no matter what year you join and the support network of staff ensure that any problems you face are always quickly resolved.
Woodbridge has lead me to develop a passion for hockey, which has made me determined to achieve my full potential in this sport, and I am now captain of the first XI hockey team and currently training at national level. The pupils at Woodbridge prove it is possible to take part in a number of sporting, musical, or CCF activities, to name a few, whilst still gaining high academic achievement."