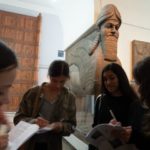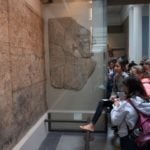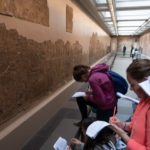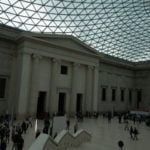 On Friday 12 October, 25 pupils from Y10 upwards went to the British Museum for the first trip run by Miss Wright, the head of the FitzGerald Society, with the help of Dr Renshaw and Mr Hillman. The FitzGerald Society is a society aimed at intellectual high-fliers in Year Ten and Eleven who may be considering applying to Oxford or Cambridge University in the future. The Society is a way for all these people to get together as a group to explore intellectual challenges beyond the normal school curriculum, and to encounter a range of skills and interests which may increase their chances of fulfilling their ambitions of Oxbridge.
During the morning we analysed images of Power and Authority, where we studied how ideas can be conveyed about a society without using words. We focused on the Assyrian society, which was at its strongest and most powerful during the 9th to 7th century BC. This activity was focused on enhancing our analytical and observational skills, looking at how different aspects of Assyrian society were depicted in carved reliefs and to consider how the sculpture conveyed ideas of power and authority.
In the afternoon we headed off to a nearby museum, The Wellcome Collection, where we focused on the history of medicine and how medicine has been tackled and portrayed throughout the years. We spent time as a group discussing different aspects of the exhibition and what interested us about medicine over a very long time period. We also had a look at the architecture in medicine: How hospitals in the past were and what hospitals in the future may look like.
We, as the FitzGerald Society, went on this trip to broaden our knowledge and understanding of two very different topics, to widen our knowledge and to see if we'd consider studies linked to either of these two topics. The FitzGerald Society is a great opportunity and I would encourage any pupils who are considering Oxbridge to join the society!