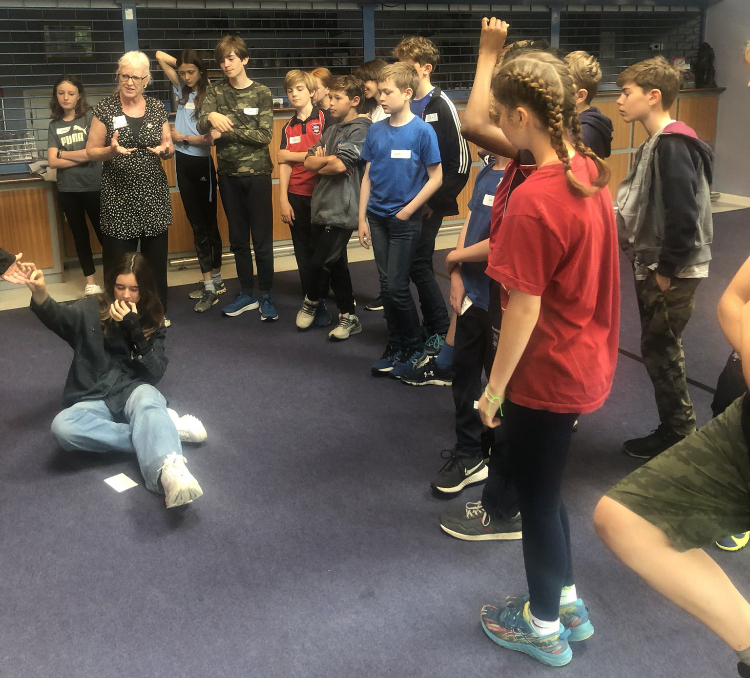 Last week our Drama department organised an enrichment day for a number of Year 7 and 8 students who have demonstrated skills and dedication in Drama this academic year.  A workshop, led by Annie Eddington, an external facilitator, focusing on this Summer's Shakespeare On The Lawn, Twelfth Night took place in School.   
Having secured an MA in the Contemporary Practice of Shakespeare at the University of Essex where she went on to teach Drama undergraduates, Annie has also been building a career as a freelance facilitator.  Working on numerous projects for theatres around the region including the National Theatre, New Wolsey Theatre, Colchester's Mercury Theatre and Bury's Theatre Royal, students enjoyed an immersive experience benefitting from Annie's expertise, experience and encouragement. 
One of those students that took part was Year 7's Annie, who reported on the day. 
Annie
A group of Yr 7 and 8 students took part in a workshop on Shakespeare's play 'Twelfth Night'. It was run by Annie who has a degree in Shakespeare. My highlights of the day were firstly an exercise where we were given a character's name and had to create a freeze frame in response, which helped us capture the character and their traits. Another fun activity was reading a speech in a group, memorising a line each and then using a physical action to enhance the line further.
But by far my most favourite part of the day was the last exercise where we were given the chance to get into groups to act out a scene from the play, using all the skills we had learned throughout the day. It was great to see other people's work and get lots of ideas from one another! Overall, the day was great fun and there were tonnes of learning opportunities! Annie was so enthusiastic, and was such an inspiration to everyone at the workshop.
Thank you to Miss Mayes and Mr Williams for making the workshop happen but most of all thank you so much to Annie for teaching us lots of new skills and inspiring us for the future.