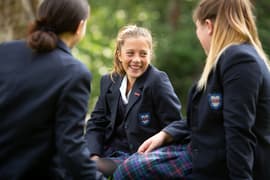 The application process
In considering new student applications, we are interested in much more than their accomplishments in academic subjects, arts or sports. We want to make certain that Woodbridge is the right learning environment for every individual who applies.
We nurture every student as an individual and it is incredibly rewarding to watch talented new students develop and excel.
Our entrance assessments are not designed to be 'exclusive', but to allow us to learn more about every child who would like to join us. Our Admissions Team will be keen to discuss your child's personality, skills and attributes to make sure that Woodbridge School will be a great fit for them.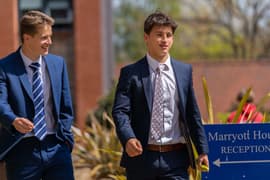 The first step
Completing the online enquiry form is the first stage in every application. This registers your interest and requests key information about you and your child, so we can get an idea of your needs. It only takes a few minutes to fill out, and then we'll be in touch to help you take things further.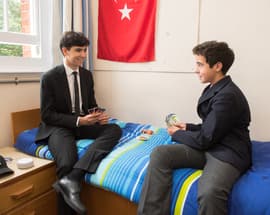 How to apply for boarding
Thanks to the reputation of boarding at Woodbridge, coupled with the size of the boarding house, we suggest that you make applications as early as possible to avoid disappointment.
Applications may be received directly from a prospective student's family or via an agent (this is the preferred route of application for non-UK boarders). Once you are sure you would like to formally apply for a place, we would ask you to complete the online application form.
UK boarders
Parents are asked to complete the application form and pay the £100 registration fee. Once the form and fee have been received we can arrange for the applicant to sit the entrance tests and attend an interview with the relevant member(s) of staff. UK boarders will typically follow the same entrance process as day students, depending on when the application is received and the point in the admissions cycle.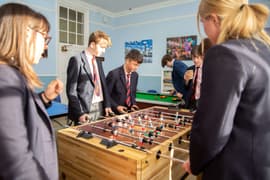 EU boarders and Non-EU boarders
As with UK boarder applicants, both prospective EU and Non-EU students are asked to complete the application form and pay the £100 registration fee.
All applicants will need to complete online entrance and English tests as part of the application process, and attend an interview with the relevant member(s) of staff. Applicants will need to supply school reports and a copy of their passport, together with any documentation regarding their right to study in the UK.
It is not necessary for an applicant to come via an agent, but many of our EU and Non-EU boarders do use one of our well-known and trusted third parties. All EU and non-EU boarders must be competent in English. Applicants must be able to prove they have the academic potential to complete their chosen course of study and that their English is acceptable for them to be able to do this. Requirements for 'English as an Additional Language', or EAL, will be assessed in advance of entry and lessons timetabled if appropriate.
Offer of a place and acceptance
Following the entrance tests and interview, we will be in a position to confirm whether we are able to offer a place. Any offer of a place for an EU or Non-EU boarder will be subject to the applicant having an educational guardian in place for the duration of their stay with us, and parents are responsible for guardianship fees. Parents must choose the guardian, and we are unable to do this or to make recommendations, but we would be very happy to provide details of guardianship agencies to parents.
If a place is offered, then an offer letter will be sent, together with terms and a request for payment of a deposit to confirm the place.
The acceptance of a place must be confirmed by the payment of a deposit and the completion of the School's acceptance form by the date specified in the offer letter (normally 21 days from the date of the letter). The deposit payments required are as follows:
UK and EU Boarder: £500
Non-EU International Boarder: One term's fees
The deposit is refundable against the student's last fee account with the School as stated in the parent contract.
Woodbridge has partnered with Flywire to make international payments safe and easy. Flywire allows overseas parents to pay from their own country and their own bank. In most cases parents will be able to pay in their own currency and Flywire will process the currency exchange – offering an excellent wholesale rate unmatched by national banks, and therefore saving money.
Flywire eliminates hidden bank charges and ensures that Woodbridge receives the correct amount due. The service also gives peace of mind as Flywire provide 24 hour multilingual support. Parents will be able to track the progress of their payments through the transfer process with a student dashboard and email notifications.
Should parents not wish to use Flywire for the payment of their school fee account then payment may also be made by bank transfer or cheque. Funds must be received (cleared) before the first day of term.
Get in touch with our admissions staff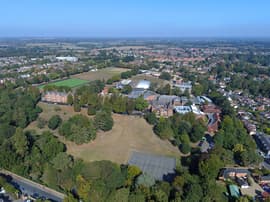 Take the opportunity to look around
At any point during an application, we will always be delighted to accommodate a visit to the School. This is a vital step in helping you decide whether Woodbridge is the right place for you. We know that the warm greeting you will receive from both students and staff, coupled with the stunning grounds and outstanding facilities, will help make the choice easier.
Any other enquiries?
To request a prospectus or make any other enquiry, please click below.
Set up for life
Want to book a visit, make an enquiry? Please feel free to get in touch
Sign up to receive the latest news and events in the Woodbridgian Weekly