At Woodbridge School, we are lucky to have so many talented and inspirational OWs, who go on to achieve great things after they leave us, in all kinds of careers, all over the world.
None more so than Tim Carter, at Woodbridge from 2002 to 2010, who is currently representing Great Britain in the America's Cup.
We are very grateful to be given the chance to interview Tim in New Zealand, as he takes time out of his busy schedule with the INEOS TEAM UK. Here, he reminisces about his time at School, how he progressed to a career in professional sailing, and how he feels about competing in one of the world's most intense and demanding sailing challenges:
How did you find your time at Woodbridge? I loved it! Many of my best friends are from School and I have stayed in contact with a lot of people I went to School with.
Do you have any favourite memories / teachers? Lots of good memories from rugby on Tollers, to CCF, to messing around in the Valley. As you can tell, I wasn't the most academic student, but that wasn't an issue, as there were always other opportunities.
What inspired you to take up sailing? I started sailing when my sister, Alice, started sailing with her friend at the local club (Waldringfield). I thought that, as I was there, I may as well have a go. I loved it instantly.
When did you take up sailing at School? How did you find it? I didn't actually sail very much at School. I did a few regattas and CCF events, but I love my sport, so I tried to keep sailing for weekends and holidays, so that I could play rugby, hockey and cricket during PE.
Did you find yourself competing with your School teammates, even then? I am sure I did! I'm one of the most competitive people you will come across.
What did you do after School? Why did you choose this? After leaving Woodbridge, I completed a Business degree at Portsmouth University. It was a pretty ideal location for me, as I could sail whenever I liked. Growing up, I had competed in junior and youth competitions (age group), both nationally and internationally. Fortunately, my results from these events were good enough that I could join the British Sailing Team. This is the Olympic squad training group for the people who are trying to represent GB at the Olympics, but also at the major events; World Championships, European Championships etc..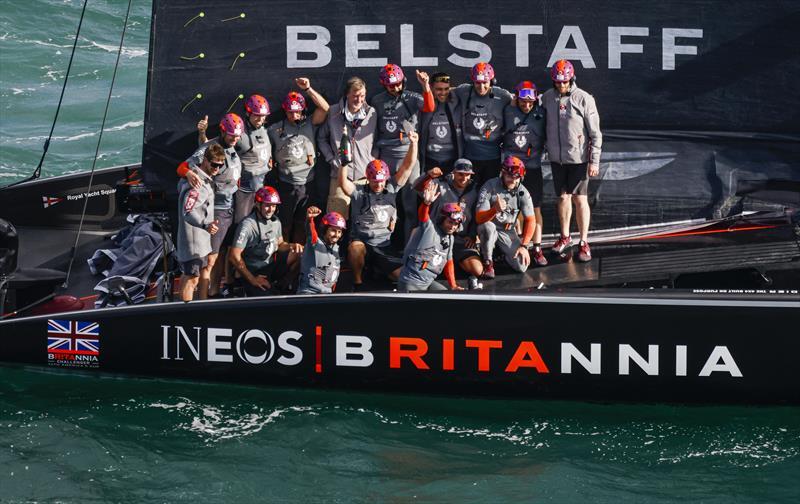 What was your path to becoming part of the INEOS TEAM UK? My job with INEOS is two-fold, really. First and foremost, I am a grinder on the boat ['Britannia']. This is how the boat is powered: there is no stored power to move everything on the boat. As grinders, we have to grind into a hydraulic bank, which is then used by Ben [Ainslie, Team Principal and Skipper of the INEOS TEAM UK] and the trimmers to change the sails, hydrofoils and keep the boat going as fast as possible. Secondly, the boats are custom-designed and built, so when we aren't sailing, I am involved with the component construction of the boat. It's cool to be involved in the build of the boat, from concept to sailing around on it.
How does it feel to be competing in the America's Cup? This is my first America's Cup as a grinder, so it's really cool and I'm incredibly fortunate to be involved with such a good team. We had some big struggles during the preliminary events before Christmas, but the drive and determination from the whole team to solve those issues has been staggering. It's been a hell of a ride so far, so hopefully it continues.
How have you been training for this challenge? The training has been pretty full on. The America's Cup is a four-year cycle, but ultimately, as a grinder, you are training before you are lucky enough to be selected by a team. The last four years have been incredibly intense, training between 15-20 hours a week in the gym, around the grinding on the boat itself.
What challenges have you faced? How have you overcome them? Well, simply put, at the non-counting preliminary races before Christmas, we couldn't buy a win. Out of the six races we took part in, we lost them all – and not by small margins. That really brought the team together and we created a 'siege mentality' within, not just the sailing team, but the whole organisation. Having solved some of our technical issues (I can't tell you about these, as they are strictly secret!), we managed to win the first counting round of the Challenger Series, the Prada Cup, winning all of our races.
What would you describe as the most exhilarating experience/s that you have had so far? Every day. In this new class of boat, we are learning so quickly how to sail them well and improving the whole time. But when you are up on the foils doing 50 knots, flying 2m above the water at maximum heart rate, everything is exhilarating!
What does this experience mean to you? I am incredibly fortunate to have been selected in the first place; there are only 15 of us in the sailing team and this team is full of the best sailors in the world. But to try and win the America's Cup for Britain for the very first time would be truly special.
How will you celebrate, if you succeed in winning? Haha! Let's not get ahead of ourselves. We are in the Challenger Series final and will take on Italy. If we are lucky enough to win, we will take on the defenders, Emirates Team New Zealand, in the final, who are the super-team in America's Cup racing. We have a big challenge on our hands.
Find out more about the INEOS TEAM UK at INEOS TEAM UK.
You can keep up with Tim and the INEOS TEAM UK's progress at 36th America's Cup presented by PRADA.