Category:
Woodbridge News
Huge crowds; hundreds of expectant children from across East Anglia; so many schools represented.  Woodbridge School's second hosting of this major regional event on the sporting calendar was if anything even more brilliantly slick than last year's triumph.  Mr Lubbock, Mr Goddard, Miss Sanders, Mrs Richardson and their wonderful team of staff, parent and pupil volunteers spirited up a glorious day of endeavour and achievement, making light of the relatively grey skies, and the attempt at drizzle –nothing was going to dampen proceedings!
Each race went off at blistering pace, the thunder of the feet rolling down the initial slopes into the valley.  And then the woodland hill… but even here the attack of the athletes was great to behold.  No quarter given to mere gradient.  One lap, two laps, Tollers or not depending on age or gender… everyone had a course perfectly matched to their experience and strength, and the challenges posed gave the fastest just the right amount of time to demonstrate their skill.  Medallists were almost invariably medallists by a good few metres and not by heartbreaking widths-of-singlets; and teams won their honours thanks to consistently outstanding performance and not through the agony of others' distress.
After over two hours of racing, one event seamlessly proceeding to the next, it was time to regroup in the Dome for delicious cakes, sandwiches and hot drinks (very welcome indeed!).  Mr Brett welcomed and thanked, Mr Lubbock and Miss Sanders praised and distributed: and it was a great day for Woodbridge School: overall team champions! Overall boys' champions! Overall girls' champions! Under 11 boys' champions! Under 12 boys' champions! Second in under 12 girls, under 13 girls and under 10 boys! Ruby Vinton won U10 girls', Henry Dinwiddy won U11 boys', Kit Evans-Lombe won silver in U12 boys', and Will Frankin (U12B), Edward Rufford (U11B) and Bea Thomas (U12G) all won bronzes. Brilliant stuff.  Many congratulations to all the athletes, wherever you placed – everyone counted in the team event – and what a team we were!
Woodbridge School organised the 20th NSEA Inter Schools Annual ODE at Poplar Park on Sunday 20th March over the Poplar Park BE XC courses for 80cm, 90cm & 1m classes.  As ever, the day was a great success, and our sincere thanks go to Ms Theobald and her brilliant team of helpers.
The 80cms class was run as a Hunter Trial for children 13yrs and under. This was won by the Woodbridge School Junior Team of Ada Marson (4th individually) riding Rolly Rascal, Neve Walker (9th individually) riding Heritage Zena and Fleur Ludgrove (10th individually) riding Aston My Time of Warleigh. This was a very fine performance as all three riders were making their Cross Country debuts on new mounts.
The 90cms was very well supported with eleven school teams competing with 41 individuals. Woodbridge's team of Tabitha Wilson-Smith riding Ruby Queen of Diamonds, Lydia Sida-Page riding Corrin Hill Clover (6th individually)) & Georgie Warren riding Autumn Gold (7th individually) took seventh place overall.
The 1m class saw a brilliant double for Woodbridge's Lye sisters; Zara Lye won her section riding Jana de Cavaignac & Tessa Lye won her section riding Dawns Glen. Bella Regis riding Forever Unique secured a fine second place in her section, to round things off in excellent style, helping the team to a convincing win overall.
This delightful musical play performed by Years 1 and 2 on the Abbey stage was enjoyed by all who came to see it – and all who were in it! The smiles on the children's faces showed that they were clearly having a great time on the stage and were justly proud of their production.
The messages about global warming came across loud and clear and the audience were made aware of how we must look after our planet for the next generations of children … and animals.
Congratulations to all the cast and thank you to all the staff involved in making props, helping with costumes and keeping everything calm backstage!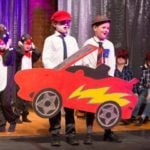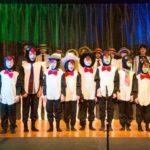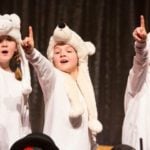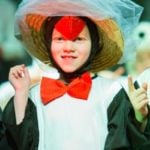 Poetry came alive at The Abbey on Monday morning, as the week began with the annual verse speaking competition. Finalists from each year group recited poems from memory, ranging from humorous rhymes by Roald Dahl to darker, introspective verse from the likes of Rudyard Kipling and Charles Causley. The audience was treated to fantastic performances from all of the finalists. Particular mention should go to the year 2 children who came up to The Abbey to join the competition and whose confidence and enthusiasm was absolutely outstanding.
The winner of the year 2 competition was Edward Saunders, who recited 'The Alien' by Michael Miles and really made it his own. In year 3, the winner was Beatrice Liddy, who performed 'The Pig' by Roald Dahl and told the story of the clever pig beautifully, really drawing the audience in. Year 4's winner was Charlotte Hattan, who took Lewis Carroll's 'The Jabberwocky', with all of its tricky nonsense words, and made us understand it perfectly.
In year 5, with a clean sweep for the Saunders family, the winner was Evelyn Saunders, who recited 'The Dark' by James Carter; her performance was beautifully dramatic, but at the same time kept a sense of the poetry and gave us a very personal response in the recitation. The year 6 competition was a real treat, with a huge range of poems chosen. The winner of the year group was Henry Dinwiddy, with his powerful and musical performance of Banjo Patterson's 'Song of the Artesian Water', which he communicated rhythmically and convincingly. The overall winner of the whole competition, and winner of the Poetry cup on Speech Day, was Olivia Max with her evocative recitation of 'The Summer Day' by Mary Oliver. She captivated the audience and had us hanging on her every word.
A huge thanks must go to Mrs Alex Davis, who provided insightful and inspirational feedback to every single finalist and who drew the whole competition together in a poignant closing quotation from the poet Jean Sprackland: "Taking a poem into your heart makes it part of you. Saying the poem aloud makes you part of its life in the world." As Mrs Davis said, despite the fact that many of the poets have been dead for a long time, their poems gained new life in this competition at The Abbey.
On Friday 18 March the children at Queen's House took part in a Cross Country run in aid of Sport Relief.  Dressed in red to show their support for this amazing cause the children ran with enthusiasm and determination.  Parents supported from the side lines and the Senior School Sports Leaders and staff ran with the children encouraging them along the way!  All children received a medal and certificate for their efforts and the first across the finishing line for each year group was awarded a cup.  Cups went to: Ruby Lubbock (Year 2), Oscar Ripman (Year One) and Alex Hobby (Reception)  The Walker Prize for overall winner was awarded to:  Sam Lissaman.
Well done everyone for taking part and raising £1402.25 for Sport Relief.
A dozen captured moments in the life of young William Brown came gloriously to life through the voices of this year's parade of form winners as they vied for the title of Ayres Cup champion and Reading Aloud winner (not something I can imagine William himself undertaking with anything other than a destructive gleam in his eye). The Year 7s started us off as two of our own Williams (in name not deed, of course), Nina and Millie told their story of accidents and adventures; the Year 8s Kira, Lily and Annabel carried the baton of comedy into the realm of the absurd; the Year 9s Guy, Oliver, Martha and James made absurdity blush; and Toby finished us, William, his father, and most of the attendant family, off in the finest style. Brilliant, ridiculous, gloriously entertaining and…. crucially… fantastically well read by everyone concerned: enunciation, characterisation, enthusiasm, innocence and a certain lack of it, the odd accent, and a bit of adult ranting from time to time. Many congratulations one and all, and, as is ever thus on the Reading Aloud evening, just a soupçon more to the three year group champions: William Cook in Year 7, Guy Seagers in Year 9, and Lily Craig the Year 8 and overall Ayres Cup champion. Our thanks to Rosie, Rhiannon and Mr Edwards for their adjudication, to Audrey and Mrs Gardner's daughter Rosie for their introductions, to Dr Renshaw for the inspiration, and to Miss Edwards and her team for the hospitality of the Seckford Theatre.
What a great night out!  The foot tapping got underway immediately, and rather appropriately, with the Swing Band's Blues Walk, the boys enjoyed a sing-song in Tequila (well, a sing-word: "Tequila!" after the last chord – perfectly delivered!), then Along Came Betty… and the Day Tripper.  Wonderfully recognisable and brilliantly upbeat, the Swing band's set was a real treat, full of expertly delivered solos and improvisations, and a great start to the entertainment: thank you Mr Shepherd and your musicians.
Thereafter we were treated to a rich variety of sumptuous music from the smaller ensembles: rags, blues, deep South (Deep River, at least), soul, something Cool and a breezy Air to help chase in springtime, epitomised by Beach's Pastorale (a performance, as Mr Penny pointed out, conceived and rehearsed without staff input by the quintet which played it so beautifully).  Many congratulations to all the individuals who contributed to these most intimate of groupings, the largest of which was the ever-entertaining Percussion Ensemble.
The second half was the Concert Band's.  Mr Hubbard's choice of repertoire mixed genres brilliantly, keeping it all exciting yet familiar, rousing yet poignant.  Uptown Funk! – not what I expected from the Band; Festiva, Game of Thrones (I confess I may have heard this tune once or twice on the sofa at home with the family), Gabriel's Oboe (Isabella Pincombe's gorgeous solo absolutely captivating) and The Dam Busters to close all much more Band-like but no less exciting for that.  And in between Life on Mars and our own small tribute to Bowie.
A great night out indeed: our thanks and congratulations go to all the performers, and to the conductors Mr Hubbard, Mr Shepherd and Miss Foster, and our thanks to the audience for the retiring collection of £182.05 in aid of the Alzheimer's Society.
Woodbridge School had a record five pupils, all from Year 9, represent Suffolk at England Schools National Cross Country Championship on Saturday 5 March in Nottingham. 44 counties each sent their best 8 athletes, so over 350 of the fastest children in England were competing in each race. The races are so competitive that there are often a half-dozen athletes crossing the line in a single second. The setting was perfect: cold but sunny conditions on an undulating but not too muddy course.
Suffolk finished 16th in the Junior Boys and 20th in the Junior Girls. Nathan Goddard finished an amazing 25th with George Rufford 260th in the Junior Boys, while Sarah Barker finished 88th, Amy Graham 192nd and Millie Buckingham 297th in the Junior Girls.
There are just two cross country fixtures left for this winter, the Inter Counties in Birmingham on Saturday 12 March and the East Anglian Prep Schools Cross Country Championships which Woodbridge School is hosting on Sunday 20 March. Please come and support your school as defending champions at this final event!