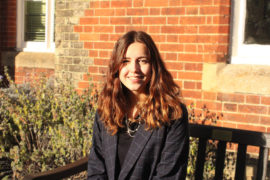 Emily
Living and learning at Woodbridge School – Boarding in School House
I originally joined Woodbridge as a full time boarder for what was supposed to be just two terms, but I settled so well and enjoyed being here so much, I'm now in my second year of boarding and final year at School, studying for A Levels.
I'm originally from and my family still live in Hamburg, Germany, so we visited the UK specifically to view schools ahead of my decision on where to study and board.  My Father boarded in the UK while he was at school, so we'd spent time talking about what to look for and what to expect.  But I have to say as soon as we came to Woodbridge my decision was made instantly, it had everything I was looking for and more, and it just felt right.  As we left and were literally only just out of the School grounds, I told my parents that this was where I wanted to go.
I'm enjoying and thriving at School, working towards going to university to achieve my ambitions of a career in Law.  The academic and co-curricular opportunities at Woodbridge are vast, I play for the 2nd XI hockey team, take part in Combined Cadet Force and Young Enterprise.  There's so much support and so much to be involved in and part of at School, it keeps me very busy!  I think the routine and self-discipline that boarding instills are real life lessons, and something I know I will draw on for the rest of my life, not just during my education.
After our timetabled day we return to School House where we board.  We have set times for studying and working, with access to our House Master for any additional support we need, as well as being able to help one another – just like we would at home.  Meal times are planned and set too, and this combination of routine feels like I'm setting good habits not only for learning, exams and classwork, but for life, for university and for the whole of my future.
Woodbridge School really is a beautiful place, we're surrounded by trees, fields, nature and a lovely old market town with shops, cafés and leisure facilities galore – we take regular trips out to the cinema, bowling, shopping, to eat, to the beach – there's so much to do!
The House isn't dissimilar to living at home in that we cook with and for one another, share celebrations, can learn and talk about any problems or issues together as a team – as a family.  I think boarding gives us an extra depth of emotional development; we learn to respect one another's opinions, cultures and beliefs, as well as appreciate one another's religions, festivals, celebrations and decisions.
I've made some great friendships at School; we're able to bring friends back to the house, go out to arranged events, and behave like we normally would with friends in and outside of School.  There are rules and restrictions in place, as you'd expect, but it feels just like home and I've loved every minute of being here.
Prin
School House feels like home to me, as I've been boarding at Woodbridge since 2018.  My family live in Thailand, but wanted to encourage and support me in being more responsible and grown up, while getting the best education I could – Woodbridge has been perfect, in so many ways.  I'm happy to say that I've become better at time keeping, being organised and taken responsibility for myself and my education; I leave in June 2022 hoping to attend London University of Arts.
I feel so comfortable here, and since becoming a Head of House I've been able to help other boarders feel the same way, making sure they're settling in, being a great role model for them and providing support where needed.  Boarding is such an amazing way to experience Woodbridge School, there aren't hundreds of us so it feels like a family, we're definitely more like brothers and sisters than school friends.  The house is an energetic place where we can share meals, study and fun activities together, as well as have the privacy of our own rooms when we need or want it.
We have a great mix of nationalities boarding at the School, this has been great for supporting the development of my written and spoken English, as well as being interesting from a cultural and cuisine point of view; there are always different occasions, celebrations and religions celebrated in the School and the boarding house, it's been a great way to learn more about my friends and their beliefs, learning to understand and respect each other is a big part of School and boarding life.
Leaving Woodbridge to study at university will be a huge transition, but boarding has taught me so much in preparation, I feel ready for the next big step and adventure in my life and education.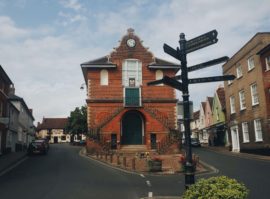 Location
Woodbridge School is nestled within the historic Suffolk market town of the same name, overlooking the beautiful River Deben and ancient landscape of Sutton Hoo. Travel to the school is simple via road or rail – our grounds are ten minutes' walk from Woodbridge station, and just a minute or two's drive from the nearest junction on the A12.
To see more details about how to get to Woodbridge School or to get in touch with any enquiries, please click below.
Kindness
Character
Community
Excellence
Kindness
Character
Community
Excellence
Kindness
Character
Community
Excellence
Want to book a visit, make an enquiry? Please feel free to get in touch
Sign up to receive the latest news and events in the Woodbridgian Weekly