Boarding admissions
Young people join us from Europe and countries all over the world, with boarding available for students in Year 9 upwards and typical entry points being in Years 9, 10 or 12 (Sixth Form).
You are welcome to apply directly to the School, or through an agent based in your country. Due to the capacity of our boarding house, we encourage prospective students to apply as early as possible, though we can consider applications all year round.
What's life like when boarding?
Located at the heart of the School, our characterful, historic 'School House' offers a true home for boarding students, where they have every opportunity to live, learn, work, socialise and thrive. Boarders form a vital part of the community at Woodbridge School, where everyone supports and learns from each other.
International payments
The registration fee is paid at the time of applying, via our online admissions system. 
For other international payments, including acceptance fees and school fees, our preferred method of payment is by using Flywire. Flywire allows you to pay from almost any country and any bank. They also offer excellent foreign exchange rates, allowing you to pay in your home currency (in most cases) and save money, compared to traditional banks.
For full details of fees and payment methods please see our Fees page.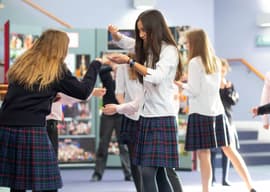 FAQs
Prospective candidates, agents, parents and guardians often ask us a number of similar questions. To make things easy, we answer as many as possible in our FAQs section, but if you have a new query, feel free to get in touch.
To arrange an appointment to view the school, request a prospectus or make any other enquiry, please click below.
Sign up to receive the latest news from Woodbridge School